Ad formats on Spotify Ads, targeting settings, creating, and running ads.
Spotify, the streaming platform, was launched in Russia and few more geos on July 15, 2020. The platform has a lot to offer to its users in terms of content. For advertisers, in their turn — it's a new way of attracting customers.
Advertising on Spotify: advantages, audience, results
What is Spotify?
Spotify is a streaming music service that allows you to listen to music, audiobooks, and podcasts without downloading them to your device. Spotify also acts as a social network.
According to Counterpoint Research, Spotify ranked first among streaming music services last year. It accounted for 35% of the market.
Now Spotify competes with Apple Music, Google Play Music, Yandex.Music, YouTube Music, and other streaming services. However, in the future, the platform plans to compete with TikTok (it is unclear for the moment, but such claim has been made).
Advantages of Spotify:
Listening to music legally and for free

. Artists upload their own tracks and get royalties.

An impressive music archive

. It comprises more than

50 million songs

 by artists from different countries.

Broad options for communication within the social network

. Users can add friends, exchange messages, and leave comments.

Advanced music suggestion algorithms

. The platform selects music to suit the listener's tastes. There is a "non-stop" feature when the algorithm selects similar tracks whenever a playlist comes to an end.

Availability on all devices

. The service has a

website

, applications for all OS (Windows, Mac, Linux), smartphones (Android, iOS), smart systems, and car media-systems.
Spotify is available for free, but there is a Premium paid subscription. The subscription price depends on the selected package. A basic individual subscription costs 169 rubles per month. Choosing this option, user gets all the music without ads online and offline.
Spotify gives users access to their favorite music, and it is a promising advertising platform with a fast-growing and active audience.
Things to know about the Spotify audience
The service is available in 79 countries. The majority of the market is in Europe — 35%, North America — 26% and Latin America — 22%. The share of other markets is 17%.
Spotify has the youngest audience compared to its main competitors. According to Verto Analytics, the core of Spotify's audience consists of 25-34 y.o. users from the United States. The portion of this group is 29%. In second group is that of 18-24 years old (26%).
The share of female users is 44%, male — 56%. By contrast to Spotify's main competitors in the American market, which are predominantly female: the share of female audience in Apple Music is 56%, Pandora — 59%.
Advantages of advertising on Spotify
Spotify allows you to place audio ads with accompanying visual content. Ads appear between tracks.
Why it is profitable to place ads on Spotify:
Access to the wide target audience around the world

. As of June 2020, the total number of users was

286 million people

. 130 million people have purchased a paid subscription. The remaining 156 million use the platform for free. This is the audience for your ads.

Low bids for ads

. The cost of advertising depends on your targeting settings. The average price for each ad in the United States is

$0.015-$0.025

. The minimum monthly budget is $250.

Flexible targeting settings

. You can set up targeting by location, gender, device, music preferences, and interests.
What are the results of advertising on Spotify?
Such brands as KFC, Baskin Robbins, Axe, and others advertise on Spotify.
Using the example of KFC, we will briefly review the goals and results of advertising on Spotify.
The goals were the following:
Attract people to their retail outlets in the United States.

Tell the target audience about a special offer: plus 4 free desserts to a purchase of 10 menu items.
As a result, the attendance of retail outlets increased by 17% (+85 thousand visits). The Quick Service Restaurant (QSR) indicator also increased — its value for KFC exceeded the reference value by 3.4 times. This indicates an increase in the quality and speed of customer service.
How to launch ads on Spotify Ads
Log in to the platform
Ads on Spotify run through Spotify Ads Studio. This feature is available to all users registered on the Spotify website or in the app.
Ads can be launched by users from 79 countries in America, Europe, and Asia. For Russia and CIS countries ads feature is not yet available. The developers promise to provide such an opportunity in the nearest future.
Let us have a look at how ads are launched on Spotify, with an example of a campaign for the United States. The goal is to advertise the EOS 5D Mark IV camera.
How to do this:
Go to

Spotify Ads Studio

and click "Get started".


Log in to Ad Studio. To do this, enter your personal data: first name, last name, email address of the company, and specify the country.


Provide business information: the name and field of the company, your position.


Click "Create Ad" in your ad profile to create your first ad.


Next, we will take a step-by-step look at the creation of an ad.
1. Specify the object of advertising
Available options:
You are a musician and want to promote your content.

You are a producer and promote an artist.

You are an advertiser and promote your brand.
Since the goal of the campaign is to advertise Canon cameras, we will indicate the third option – "Brand, product, organization".
Name your ad. The limit is 98 characters.
2. Select the ad format
Audio ads on Spotify have maximum length of 30 seconds, and an image to click on is displayed during this time.
If you already have a ready-made voice recording, upload it to Ad Studio. If you don't have a pre-made recording, use the Spotify Voiceover Tool.
Spotify Ads also has a new ad format — video ads. This type of ad helps to support your audio ad with visual content. This format is currently available in the United States, Canada, and the United Kingdom. But in the future, advertisers from other countries will get the access as well.
If you want to reach new GEOs and audiences, maybe it is all waiting for you on Telegram? We've prepared some material about Telegram audiences. What are the messenger's users like this year? How old they are, what they do, and what they are interested in!
Since we are looking at an example of an audio ad for the US, all ad formats are available in the ad settings:
Audio ads

. Recording requirements: maximum duration — 30 seconds; maximum file size — 1 MB; file type: WAV, MP3, OGG. Requirements for the accompanying image: file size — 640×640 pcs square image; file type — JPEG or PNG; maximum file size — 200 KB.

Video (vertical)

. Platforms: iOS and Android; maximum duration – 30 seconds; aspect ratio — 9:16; maximum file size — 500 MB; file type — MOV, MP4; quality — HD 720×1280.

Video (horizontal)

. Platforms: iOS, Android, desktop OS; maximum duration — 30 seconds; aspect ratio — 16:9; maximum file size — 500 MB; file type — MOV, MP4; quality — HD 1280×720.
To launch an audio ad, select "Audio".
3. Select platforms you wish to display your ads on
Available options:
All platforms

iOS

Android

Desktop devices
Select all platforms (check the box next to "All") for maximum coverage.
If you don't want to display your ads on all platforms, choose any two options. For example, displaying ads on iOS and Android devices.
4. Set your broadcast schedule and budget
Specify the dates of launch / end of your campaign. Ads are broadcast after they are approved. For this reason, the ad sometimes will be launched later than specified in the schedule.
Specify your ad budget. The platform offers to set advertising expenses at the level of either $1,000, $2,500, or $5,000. But you can also specify your own amount. The minimum budget is $250.
5. Specify the location of the target audience
You can target the entire country, region, or city. If you want to launch an ad for the entire country, check the box next to "Target the entire country".
You can specify up to 1000 locations in total.
To the right of the settings you can see forecast data for your campaign:
Cost of displaying ads

. The price depends on your targeting settings. The cost increases as targeting settings get more detailed.

Budget delivery likelihood

. The arrow on the gauge indicates whether you have selected a wide enough audience to spend your advertising budget. If the arrow points to the red sector (low likelihood), you should expand your coverage.

Estimated ads served

. How many times your ad will be displayed during the campaign period.

Estimated reach

. The expected number of unique users who will hear / see the ad.

Estimated frequency

. How many times your ad will be served to a single user.
In our example, the cost of displaying one ad with specified targeting settings is $0.011. Now, we will see how the cost of advertising will change after the finishing touch upon targeting settings.
6. Specify the age and gender of your target audience
Our target audience is people of any gender from 20 to 65 years old.
7. Set additional targeting settings
For more accurate targeting on Spotify Ads you can track your audience based on these criteria:
Interests. For example, potential buyers of Canon cameras are interested in technology. SLR cameras are also common among people who travel a lot. Therefore, in the "Interests" settings we will select tech and travel.

After configuring the audience by interests, the cost of ads increased from $0.011 to $0.014.
Real-time contexts. Broadcast ads to users when they are engaged in a specific activity.
How it works: people often create playlists for sports, cooking, recreation, studying, etc. The Spotify Ads algorithm uses the playlist name to determine what the listener is doing and places the ad accordingly.
The user value of such ads is higher. This way you can advertise a sports supplement to a person who is currently working out, or a non-stick frying pan to someone who is cooking.
Musical genres. Target people when they are listening to their favorite music. This option is perfect for artists and producers. They can advertise their songs between tracks of the same music genre.
Since music preferences do not affect the choice of photography equipment, we will not configure this parameter, so as not to limit the audience.
No additional targeting. Select this option if you want to get the widest audience possible.
After setting up your targeting and budget, go to the next step of configuring your ads. To do this, click "Next" at the bottom of the page.
8. Add / create an audio ad
Adding an ad is the final step in setting up ads on Spotify Ads. At this stage, you can upload your audio ad or create it in your ad account.
How to upload your own ad:
Click on the "Use my own" tab.

Upload your audio file.

Upload an image to accompany the audio file.
Creating an ad on Spotify
Let us take a more detailed look at how to create an ad in the ad studio:
How to upload your own ad:
Click on the "Use my own" tab.

Upload your audio file.

Upload an image to accompany the audio file.
Creating an ad on Spotify
Let us take a more detailed look at how to create an ad in the ad studio:
Click on the

"Help me create one"

tab.


Upload background music. You can upload your own music or use the Spotify library.

Write the script for the audio ad. Insert this script into the corresponding window – the system will automatically calculate the number of words (the limit is 70 words).

Set the voice-over details

. What makes it even more convenient is that the voice-over is done by the Spotify. Select the language and voice for your ad. For example, the voice of a teenager, a young adult, a middle-aged person, etc. Provide instructions for the voice actor. Specify the speed, emotions, and tone of voice.




Add an image, a call-to-action button, and click-through URL.



Enter the advertiser's name

. It must match the name of the campaign or podcast.



This is the last step of ad settings. Go to the "Review" page and add your credit card.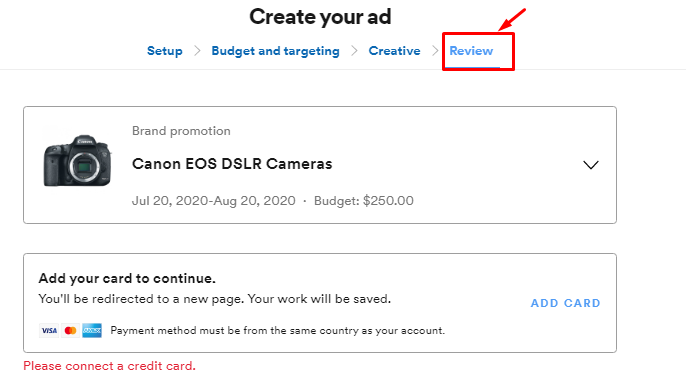 After the verification, your ad will be launched within the specified time frame.
How to create effective ads for Spotify
An ad message on Spotify lasts up to 30 seconds. Therefore, it is important to use every word and every second to your advantage.
Tips for creating an effective ad
Be unique

. Your ad must be unique and should not infringe on any copyright.

Attention points

. Grab the attention of your audience at the very beginning of your ad. For example, if your audience is located in Moscow or any other specific city / region, attract their attention with a greeting like: "Hello, Moscow!"

Get in your audience's shoes

. When creating an audio ad and selecting a sound track, keep in mind that it will be served to people while they are listening to music. Try adapting your ads to the Spotify environment. But remember that not all ads require background music.

Do not use sound effects

. High-pitched and sharp sounds in an ad may prompt listeners to turn it off.

Make your ads brief and informative. Your message should consist of 55 – 70 words.
The recommended structure:
A friendly greeting or a relevant question

(up to 5 words). For example, "Welcome, car-lovers" or "Wish to be successful?"

Introduction

(up to 10 words). Present yourself and the purpose of your ad. Be sure to specify the name of your company / organization / group, etc.

Advantages

(up to 30 words). Tell them about your product, upcoming event, sale, promotion, etc.

Reminder

(up to 10 words). Remind your target audience once again why your offer is so profitable / useful / relevant.

CTA

(up to 8 words). Call to action: buy, come, register, listen, etc.
Try out the Spotify advertising platform as soon as it is available in Russia. The competition is usually lower in the beginning, and you will be able to reach the audience via a new medium.